HOTP008
imagineIAM – (Merry Go Round)
We are proud to present the debut release from our new artist imagineIAM.
(Merry Go Round) will be released on January 12th 2009 in vinyl and digital flavours, featuring 3 original tracks, a Beckett & Taylor remix and an uncredited track exclusive to the vinyl.
or watch on YouTube.
The question we are most asked at HOTP is "are you guys gonna find some new artists or what??!". We never really had an answer to that question. We always knew it would have to be someone amazingly secure in their own musical identity – and artists like that don't come around all that often.

After what felt like millennia of MySpaz trawling, we happened upon imagineIAM from Lafayette, Louisiana… there was an instant spark, a recognition of someone else who could bend diverse sounds into new shapes by sheer force of will and an entirely singular vision.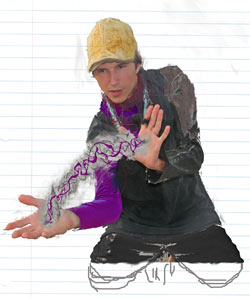 imagineIAM is all about the leanest, barest, most stripped-down approach, about taking the simplest components of beat, bass and voice and constructing from them precision-tooled devices for exploring extreme possibilities of the human spirit.
But for all his drive and intensity, imagineIAM has a grin on his face as he does this. He has fun, and you will too if you let his beats into your head.
Though it comes from a very different approach, his music has evolved into something that works in the same way as the best electronic dance, irresistibly urging the body move and making you feel better about everything as it does so.
In his own words:
"My music enters this dimension pretty much smack-dab in the the middle of all music 'styles', since it is so exact in its presence, and it simply comes to me just as definite as the sun simply shines… I throw in some extras to make it more sassy, crunk, ridiculous, holy'n'profane, sacred and shut up… with ninja blood sparkling deep electric it dares and blooms forth beyond the known edge creating a new world celebration… unconquerablly creative and classy…"
And you know what?.. He's right.
Buy our music here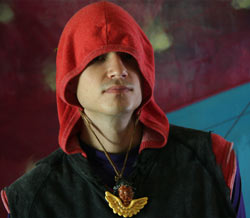 ---